Training
We are an independent PASMA accredited training centre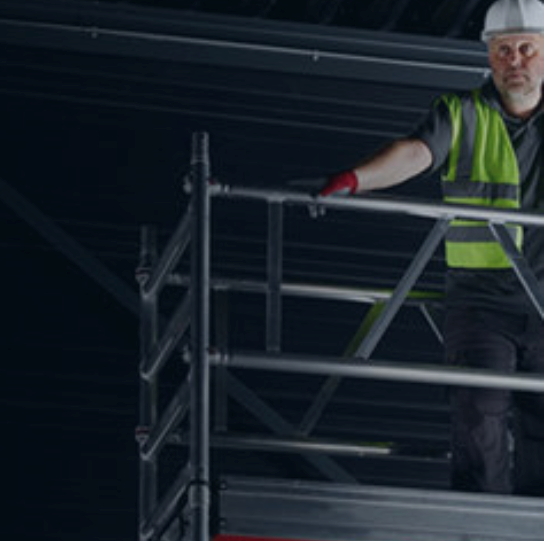 We supply all of our own training and are not a go between provider (as is the case with most online sites you will find). We also specialise specifically in training, it is not an addition to our core business.
We are based on the Slough business trading estate. We are within easy access of London Heathrow and on the doorstep of the M4 and M25 motorways; with direct bus and train access.
The majority of our clients require PASMA training carried out on their own site or premises. Therefore whether you prefer to come to our training facility or have your training carried out on site, we can suit your requirements either way.
We have a friendly team of expert trainers with many years of experience. We can advise on what courses you require and deliver tailored safety training both inside and outside of the M25.
If you would like a site survey carried out by one of our trainers before hand to advise and assess your training requirements, including method statements and risk assessments this can be arranged free of charge.
For professional course and safety advice, look no further than Access All Areas Platforms Training.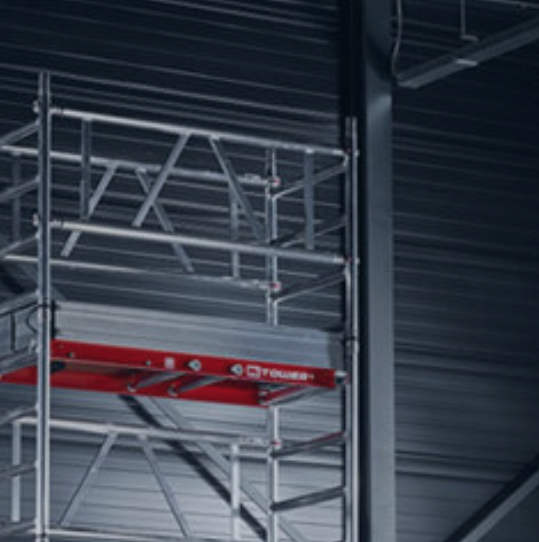 Are you compliant on all current working at height and health and safety legislation that applies to your business and employees?
Legal Info

Is your business up to date with current health and safety law?

Legal Info
FAST TRACK TRAINING ENQUIRY
What is PASMA?
PASMA stands for Prefabricated Access Suppliers and Manufacturers Association.
The Standard PASMA training course is the Tower For Users, which is a 1 day course and is valid for 5 years.
This course now includes the standard 3T scaffold tower and the AGR (Advanced Guard Rail) system.
Towers for Users Course
PASMA's flagship course is aimed at personnel who will be responsible for assembling, dismantling, moving and inspecting mobile access towers when using 3T or Advance Guardrail (AGR) systems.
View Course Syllabus
Combined Course
This combined course provides delegates with both the Towers for Users and the Low Level Access qualifications.
View Course Syllabus
Towers on Stairs Course
Towers on Stairs teaches delegates how to build stepped towers. The course covers current legislation, regulations and guidance for towers in general, and focuses on hazards specific to using them on stairs. Both theory and practical sessions are held during this full day course.
View Course Syllabus
Working at max-height Essentials Course
This half day course is designed to cover the essential points for those working at max-height. It provides vital information about the use of mobile access towers, plus an insight into the use of all forms of access equipment as represented by the member organisations of the Access Industry Forum (AIF).
View Course Syllabus
Low Level Access Course
This half day course is intended for users of low level access equipment made from prefabricated tower components, such as folding step units and folding tower units. The course gives an overview of regulations, legislation and product standards and covers current best practice, inspection of low level access units and hazards to be avoided in depth.
View Course Syllabus
Towers for Managers
A 'must do' course over one day for managers and supervisors responsible for overseeing the work of operatives on site. It is designed to ensure that when working at max-height using mobile access towers work is properly planned and organised and that those involved on site are competent and properly trained.
View Course Syllabus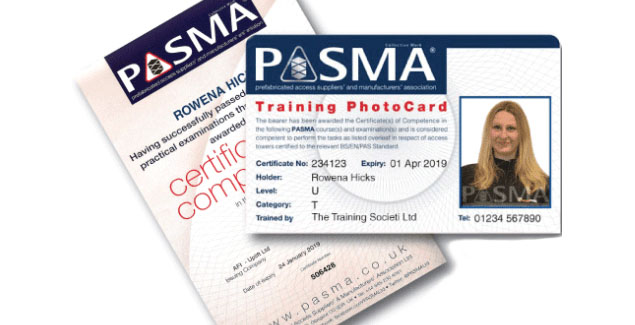 The Certification
At the end of the PASMA for towers theory session you will take a short theory test which, if you pass, will allow you to take the practical session. A practical assessment will follow, which, after successful completion will entitle you to a PASMA certificate and photo card valid for five years. A booklet containing notes and course content will be issued to all delegates together with a current code of practice booklet.

Health & Safety Executive
This brief guide describes what you, as an employer, need to do to protect your employees from falls from max-height. It will also be useful to employees and their representatives.
View The Working At max-height Guide
--